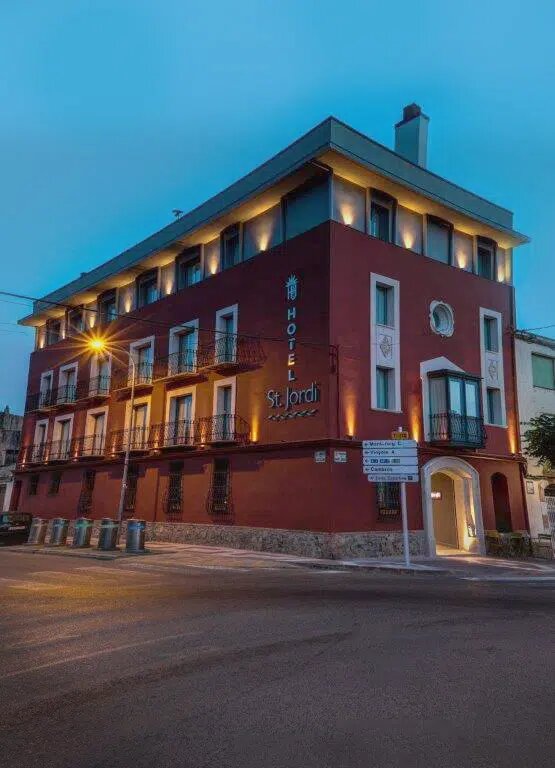 Present
Year 1999
A great little hotel with a style all its own
Hotel Sant Jordi opened its doors last century, on 23 April 1999, on exactly Sant Jordi's Day. It emerged among flowers and books in the small spa town of Montbrió del Camp
Ours is a story built with small but decisive steps, growing in a continuous and sustainable manner, to offer the best quality at our facilities and attentive service for our guests.
Hotel Sant Jordi is a family-run hotel that has grown and modernised its facilities to adapt to the needs of our guests, converting a building that housed both homes and a leather factory into a 3-star hotel with features well above this category.
Over the years, we've acquired our own style, based on friendliness, attention to detail and good taste.
Our aim has always been to offer our guests an intimate, welcoming place to rest, along with friendly, efficient service. It's a place to disconnect and find yourself.
In recent years, we have opened an outdoor swimming pool in a pleasant garden area for refreshing, relaxing experiences. There's also a car park shaded by fruit trees exclusively for our guests.
The most recent addition is the space dedicated exclusively to cycling tourism fans, with an enclosed parking area for bicycles, basic tools, a place with a tap to clean your bikes, lockers and a first aid kit.
Constant renovation, respecting the environment
Hotel Sant Jordi has been completely renovated inside. Conserving the original outside structure of the building, it is fully and respectfully integrated into its urban environment.
On the ground floor is the reception, a lounge, dining area and kitchen.
The rooms, located on the three top floors, are of different categories: Suite, Superior Double Room, Standard Double Room and Single Room. All are very comfortable, with windows.
The Sant Jordi Apartments, located in the building facing our hotel entrance, are an excellent option for guests who want greater autonomy in a fantastic setting. The apartments are equipped with everything you could need for a memorable, independent stay.
We are currently developing a new project with the construction of a restaurant and two new suites that will increase the capacity and quality of our facilities.
Get the guaranteed
best price
Special rates
for businesses
Stay free when booking
on our Cycling tourism website
Free enclosed parking
area for bicycles
Park your
vehicle for free
Surrounding area and activities
in Baix Camp
Unforgettable stories for everyone!
It is located in the spa town of Montbrió del Camp, beside Cambrils and Salou Beaches on the Costa Dorada. You can enjoy the many cycling tourism routes in Baix Camp, visit Port Aventura, go to the beach or enjoy the local gastronomy. Cultural visits are also available, with options including our many museums or either Tarragona or Reus.
See the many activities you can do on both the beach and inland in our section, or ask at the reception. We would be pleased to assist you!
Cycling tourism
in Baix Camp
Hotel Sant Jordi likes bikes!
If you're crazy about cycling tourism and mountain biking, this is your hotel. We've earned the "Cycling Tourism in Catalonia" seal. We offer you free enclosed parking for bicycles, a first aid kit, a place with a tap to clean your bike, basic tools for repairs, a locker service, bicycle routes for all types of cyclists, and more.
Cycling tourism in Baix Camp offers you cycling routes that are scenic, thematic, heritage-oriented and cultural.